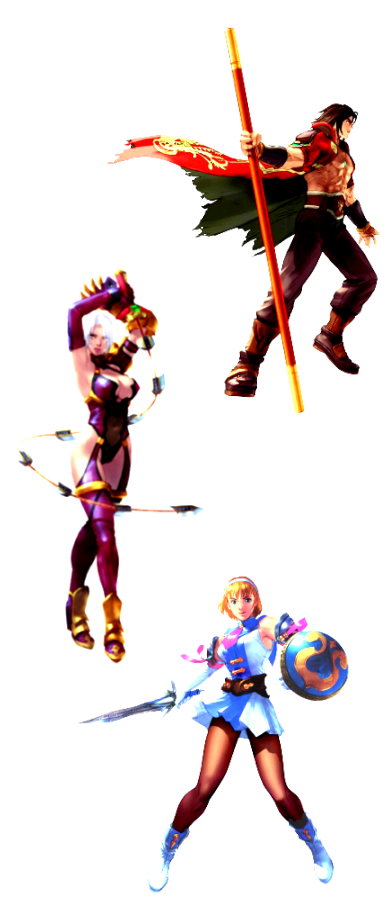 Super Moves can also be used in SCII, but just like its predecessor, there's no emphasis on them. That is, unlike Street Fighter EX3 and Bloody Roar 3, performing Super Moves is not essential to winning; in SCII most Super Moves are very strong, very slow at startup, and can be used infinitely (no charge gauge is present). The splashy effects during execution look cool, but the game would be better if the Super Moves were weaker, had quicker startups, and better priority; for example, Taki's Darkness~Possession Super Move is quick (with priority), but her Seal of the Fire Dragon Super Move is deathly slow (with almost no priority). Sure, the former is less powerful than the latter, but I'd rather have Super Moves weaker and quicker (with priority) than stronger and slower (with no priority). Not that it makes SCII a bad game, but I'd like it more if the speed, damage, and priority of Super Moves were more consistent (as in other fighters). If Namco ever tweaked the Super Moves (and even some of the Special Moves), SCII would be one hell of a furious game.
SCII and its predecessor are often praised for their 8-Way Run system (a control system less jerky and stiff than Tekken), and while I think it's a unique system feature, some issues seem to stem from it. When you do a combo in Street Fighter EX3 or Bloody Roar 3, the number of hits is usually consistent (give or take a hit), and combo success rate is consistent (unless a mistake in timing is made). But in SCII the combo system is strangely inconsistent; take this Mitsurugi combo for example, D +F B, K, Back K, B. Now, in other fighters such as those previously mentioned, the combo would turn out to be four hits over and over again (if timed properly), but in SCII tried and true juggle combos often don't connect like they should. The combo inconsistency in SCII seems to be influenced by its own, unique 8-Way Run system; hit detection feels off at times, and the success of juggle combos just seems to be unpredictable. Sure, you get used to it after a while, but you never truly know when your attacks will connect and when your juggle combos will work. I don't like guessing when I pull off a combo that has been tried and tested, so this particular aspect of SCII's system bothers me.
Thankfully though, Astaroth has been weakened since the original SC, ring-outs seem a little harder to get, and the Guard Crush counter attack works better, so that's a definite plus. However, newcomer Raphael is one of the ugliest, cheapest motherfuckers ever in a fighting game. Astaroth, Raphael, and Voldo are bullshit, and they really should have been kept out of the game; the roster is great until you get to those assholes. Also, Xianghua seems to be a little too strong, but even after all the matches I fought with her it's possible that I just can't play against her well.