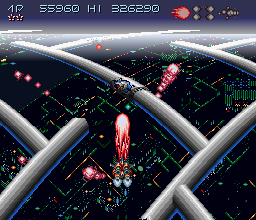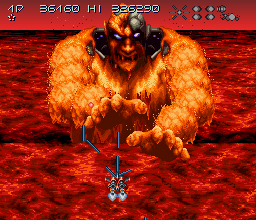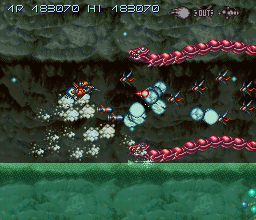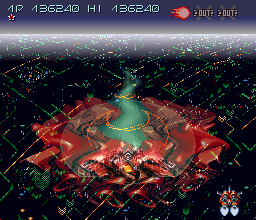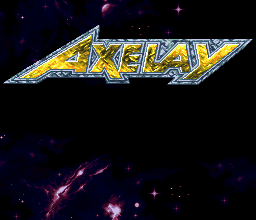 As for stages, each and every one of the six stages in Axelay is a visual treat, featuring vivid color, nice textures, and intricate detail. Perhaps the most notable aspect of Axelay is its beautiful vertically-scrolling stages; in each, a distant horizon can be seen, and the background scrolls toward the player and under the ship, creating a somewhat realistic sensation of elevation (way up high, looking down). An ethereal glimmer of bright city lights, towering buildings, and streets along a coastline dotted with boats can be seen in one stage (seen left), while the view of another reveals soft clouds in slow drift over groups of lush, tropical islands. Still, in another stage, from boiling seas of lava solar flares animate beautifully as they jump over your ship (and still when directly into your ship). Also, the backgrounds of Axelay's vertical stages aren't just pretty, they're interactive; enemies shoot from buildings miles below (seen left) on land, emerge from craters, and hide behind towering cliffs. Similar to the jumping solar flares, the ground-to-air enemy shots look nice, littered across the screen as they lighten up the dark night sky. While not as impressive as the vertically-scrolling stages, Axelay's large horizontally-scrolling stages contain bits of impressive background layer movement, combined with the same amount of intricate detail and inspiration.
However, like its older brothers Salamander and Gradius (and older sister Parodius), both the vertical and horizontal stages in Axelay contain dangerous environmental hazards that can leave your awesome ship in sorry shape. From crumbling landmasses suspended high in the clouds, to giant pipe structures and jumping flames, danger lurks around every corner of Axelay's beautiful stages. While Axelay's horizontal stages contain elements from that of the common horizontal shooting formula, ultimately the presence of environmental hazards in the game's vertically-scrolling stages clearly show influence of technical shooter gameplay. If anything in Axelay will irritate you, it will most likely be the parts of the game that require successful evasion of large environmental hazards at high speed.
Perhaps one of the most-talked about aspects of Axelay are its high-quality special effects. The nice visual effects of Axelay bring the scenes of the chaotic war at hand to life, as enemies and bosses release a plethora of different shots and beams, smoke trails behind missiles dispatched from the player's ship, and nice explosions fill the screen. Also of noteworthy detail are sharp-looking boss deaths, and effects like splashing water as objects emerge or submerge, as well as dripping lava from the monstrous body of the lava giant boss. There are also some very nice warping and transparency effects as bosses and enemies disappear and reappear (like ghosts) before taking solid form (left).
While Axelay shines visually with killer graphics and effects, quality design and sound complete the package. From the intro to the fonts and ship blueprint weapon selection screen, Axelay's presentation is also very nice. As for audio, from the opening and first stage, to the end-boss and ending, Konami poured their hearts into the music of Axelay; every track conveys perfectly the desperate, monumental theme of the game. Sure, some may say that it's not "CD quality," but the music in Axelay just rocks (especially stage 1). Great sounds.
The sheer amount of enemy detail, vibrant color, good animation, and nice effects that grace the screen in Axelay are something that must be seen to be believed. Axelay is a great model for fusion shooting games of the future to emulate. Strangely though, Axelay is one of the only Konami shooters never to have been followed by a sequel (which is sad, considering how good of a game it is)! However, there have been titles throughout the history of the genre (Gradius III, AeroFighters, Space Megaforce, Lightening Force) that cannot be missed, and Axelay qualifies as one of them. In its entirety, Axelay is a damn near-perfect shooter, combining elements of the vertical and horizontal shooter types to create high-grade shooting.